Today marks the day that nearly a dozen American department stores disappear. Marshall Field's, Kaufmanns, Filenes, Foley's, L.S.Ayers and others will now simply be known as.....


(photo taken August 8, 2003 in Herald Square, New York City)

I feel particularly sad for the people of Chicago. Sure, Pittsburgh is "losing" their downtown Kauffmans, but Chicago is losing the venerable Marshall Field's after 125 years. I'm no retail analyst, but I do know how branding is important to me as a consumer. When I grew up, there were two types of folks in the city: Eaton's people and Simpson's people. The (Simpsons-)Sears folks lived out in the suburbs, so they didn't count.

I was a Simpson's person. My parents would take me down to the flagship store at Yonge and Queen at least once a week, just to wander around and maybe get a hot dog and an orange drink down in the basement. The neatest thing about the downtown Simpson's store was that it was connected to a parking garage across Richmond Street via an overhead walkway. This walkway preceded the admittedly more exciting one which linked to the Eaton Centre by many years, but it was still neat to watch the one-way traffic zip beneath you as you walked over to check out the latest deals on slacks.

Alas, the Hudson's Bay company purchased the Robert Simpson Co. in 1978 and erased the Simpson's name from Canada's retail landscape in 1991.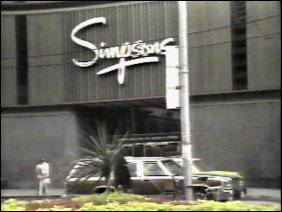 (screen cap from the TV series "Today's Special", linked above)

So today, I can identify with you folks who are losing a small piece of your past. Keep those souvenir bags and gift boxes and receipts and charge cards, because now, besides some cherished memories, that's all you've got.

Oh, by the way. My wife was an Eaton's person. At least it's better than Woolco! ;-)